Here is hopefully the last belly pic, but at this point, I'm not holding my breath! This is of me and Beth taken on the 23rd on our last excursion out before we both had our babies. Beth won! Yesterday she had a beautiful baby girl, and it was so much fun to meet her when she was just a few hours old!
An update on me…Yesterday we went in for my normal check up, now this little guy is 4, yes 4, days late, and still showing no signs of making an appearance soon. I was monitored, and the baby is healthy and doing fine, just not dropping into position or showing any signs of wanting to be born. My doctor is going to be on vacation until the middle of next week, so the plan is unless this little stinker decides to make an appearance any time in December, I am going to the hospital on the 2nd to get induced, so there is at least an end in sight! We go for more monitoring on Monday, just to make sure he is still doing well and not showing any signs of stress, and hopefully there will be more signs of progress. We'll keep praying!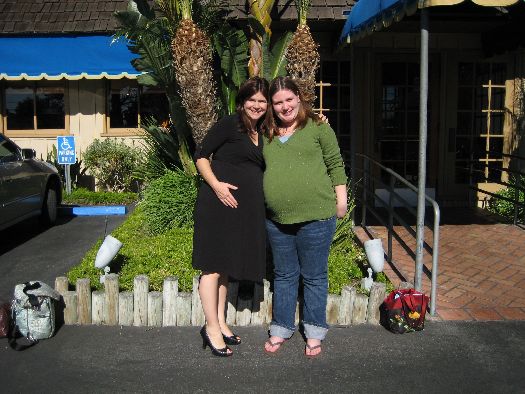 This entry was posted on Friday, December 28th, 2007 at 9:44 pm and is filed under
Uncategorized
. You can follow any responses to this entry through the
RSS 2.0
feed. You can
leave a response
, or
trackback
from your own site.